chill in heaven
- meditational compilation series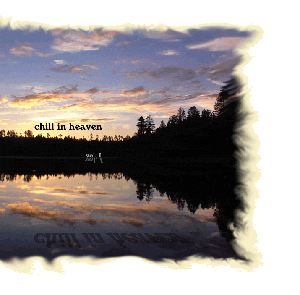 Welcome to the new chill-out / ambient / meditative section at heavenly-hymns.de. Here you can find irregularly hints and projects regarding finest chill out music and other relaxing sounds. Our target is to also illuminate style hybrids and all kinds of calm-down, meditative and especially ethno/world music. We are finally striving to expand the stylistic framework by gathering some of the finest pieces of the mid- and low tempo and softest electronica for the moments of peacefulness, all-over relaxation and self-contemplation in your life. Let the moods carry you away!
As an introduction to this new section the newest project is presented to you: a compilation series with a finest selection of meditative music. Only the most stunning and brilliant productions and recordings with crystal-clear sound scapes find their way into these lists and cd volumes.
To the left you can see the provisional cd cover design for the first episode. Please let be mentioned that it is still worked on the graphical design as well as the final content arrangement. You can expand the image to its full size simply by clicking on it. Printing is welcome, further distribution, however, prohibited until the release of the final version.
Below you can have a look at the tracks which have been selected for the first parts of the upcoming
chill in heaven
compilation series.
However, arrangement and distribution of the pieces for the
first volume
have not been contemplated about, yet. Anyway, we consider the mentioning most important as the compilation is only for private use and will not be published although it will be professionally arranged and conceptualized. All you have to do is just getting the tracks listed and burning them in the order to be announced in the following days... or in the order of your personal choice of course.
Please remember: this is the
wider
selection circle! Some tracks may still fall out. Now, here we go:
- Oliver Shanti & Friends - Radha Raman
- Oliver Shanti & Friends - Blossom In The Wind
- Era & Oliver Shanti - Journey To Shambala
- Oliver Shanti & Friends - Shaman
- Jon Hopkins - Private Universe
- Qntal - The Whyle
- Enigma - Sitting On The Moon
- Delerium - Apparition
- Velvet Acid Christ - Ghost In The Circuit
- Tangerine Dream - The Orange Breath
- Peter Gabriel - Ngankarrparni (Sky Blue Reprise)
- Ayla - Angelfalls
- L.S.G. - Into Deep
- Oni - The Music Inside Me
- Remote - Second Sight
- Baltic Sound - Sunshine Flowers
- Bochum Welt - La Nuit [interludium]
- G-Pal - Breathe [interludium]
- Love Spirals Downwards - Sunset Bell
- Love Spirals Downwards - Ananda
- Love Spirals Downwards - Nova
- Love Spirals Downwards - Eudaimonia [interludium]
- Love Spirals Downwards - Waiting For The Sunrise [interludium]
- Love Spirals Downwards - Amarillo [interludium]
- Arovane - Deauville
- Pass Into Silence - Voices
- Lamb - Gorecki
- Global Communication - Delta Phase
- Orbital - Halcyon & On & On
- Speedy J - Treatments / Fill 17
- Nu Moon - Greensand
- Fresh Moods - Shiny Cage
- Jens Buchert - Spirit Of A Dream
- Fresh Modds - The Touch
- Jean F. Cochois - Form The Edge Of Time
- David Holmes - No Man's Land
- Spacetime Continuum - A Low Frequency Inversion Field
- ? Moby - At Least We Tried (instrumental version?) ?
- Moby - Look Back In [interludium]
- Drax Ltd. 1 - Parnophelia
- Pascal F.E.O.S. - Down To Earth
- Yvel & Tristan - Silent Sight (Quasar Remix)
- Yvel & Tristan - Gaelic (Eclectica Remix)
- Yvel & Tristan - Pillow (Quasar Mix)
- Yvel & Tristan - Cyran (Original Mix)
- Quasar - Opportunity (Yvel & Tristan Remix)
current number of tracks:
46
[ end of page ]