some names to remember these days...
[ last update: 03|2007 ]
important: at the moment, also some known, established artists can be found throughout the following collection. This will be fixed as soon as we will have created a third, seperate category for those artists 'inbetween the times' within our producers corner.
Alex Arestegui
Seventeen-year-old Alex Arestegui has been an Electronic music enthusiast from the budding age of seven. Captured by the Robert Miles masterpiece, "Children" (1995), Alex discovered an impetus that would keep him ticking for the following years to come. In the summer of 2001, Alex was introduced to the computer program, "FruityLoops", by his brother. This would become his sole platform for music production for the next 4 years and beyond. "Proem" is the current result of Alex's passion for Electronic music. Comprising of various elements and styles, it portrays a period in his life that has been emotional and inspiring. It is a soulful compilation of various qualities. It is a full musical experience, including dreamy washes of keyboards that slowly unfold over a chest-thumping kick drum as the music conveys an emotional, classical bend. Alex Arestegui's work is of exceptional quality. Having a deft sense of how to build crowds into a frenzy while also being capable of setting one's mind at ease is what sets Alex's compositions apart. If you enjoy the assorted styles of Electronic music executed with great skill, make certain to check out: Alex Arestegui - "Proem"!
stylistic influences:
Robert Miles, Jono Grant, Paavo Siljam?ki, Tony McGuinness, Mike Shiver, Probspot, Andreas Schmidt, Ferry Corsten, Chicane, Sigur Ros, DreamLab, Enigma and others
Alex Monakhov
no info available online at this moment
Amurai [empire state recordings]
The sounds of the people in the bazaar and the locomotion on the streets suddenly stopped as a faint thumping noise drew closer from the distance. This noisy pattern continued along with a joyous guitar melody. What was this strange music? Manvel Ter-Pogosyan was introduced to Trance music by ATB's famous track, 9PM (Till I Come). Ever since then, he has been entranced by the genre. In the summer of 2003, Manvel found himself fiddling around with a sequencer called Fruityloops. He would use the program to write down melodies and ideas that would come to him while bored during Algebra class. For the next two years, passion and inspiration would take control as song after song was produced.
Support from DJ's grew while the quality of Manvel's work improved. His first major breakthrough was a melodic track named "Alisa", which gained support from the likes of John Wright, Miika Kuisma, James Cosgrove, and St. John. Manvel then decided to take on the pseudonym "Amurai". He signed his very first release with Empire State Recordings and is now creating a unique name in the trance scene.
Currently residing in University of California – Santa Barbara, Manvel spends most of his time studying and producing music. He hopes one day to venture into the world of DJing to expand his opportunities in the genre.
The future holds great surprises for this young producer. He continues to improve and impress us with his ever growing talent. Keep your ears open for the new sounds of Manvel Ter-Pogosyan, a.k.a. Amurai.
Blake Potter [tao recordings(?)]
works with Tony Mugavero, Geoff Haselgrove and Corey Spengler under the alias 'The Quads'. Further info coming soon
here
. Also collaborates with
Datguy
.
Darioef (aka Dario Ezequiel Fernandez)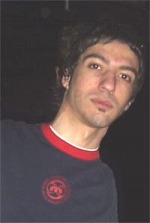 As a highly appreciated guest deejay at the famous
Oslo Nights
webradio being one of the most influential broadcasts in the scene he - along with other high class artists - has decisively pushed up sonic benchmarks and positioned himself as one of today's most talented and demanded edm representatives of the south american continent.
We are speaking of Dario Fernandez, better known as
Darioef
. Dario was born in Buenos Aires in 1983. As almost every other talented artist of today's intelligent electronic dance music scene he discovered his interest in music very early but different to other peoples' biographies Dario had not been aware of electronic music until the year 1999. As a child and also lateron he had even been very much influenced by the unique
Beatles
sound until that year when his friend introduced him to Paul Oakenfold, one of the grandmasters of progressive trance, and trance compilations in general. Dario discovered his affinity towards melodic electronic music. He started to articulate his very own tastes, defined his own aural preferences in the context of this music genre. Not much later the new born enthusiast of smart electronic sounds stumbled across the works of
Hernan Cattaneo
, who had been a successful resident at the
Pacha
Club in Buenos Aires, the capital of Argentina. Several months later Dario managed to acquire essential dj skills autodidactically by using only a computer together with a Denon™ emulator. Shortly after, he bought his first mixer. His interest on how the tracks he admired had been produced resulted in experimenting with some music creation software.
In 2003, Dario began to distribute his first production (carrying the self-explaining title "Alpha") by making use of a filesharing software. Soon after, he publicised a follow-up called "Beta" and this track should bring him substantial recognition as a producer.
In the time after he finished the tracks "New Life" and "Conservation" which were supported by
Hernan Cattaneo
in his argentinian radio show. In September 2004, the tracks "Beta" and "New Life" were signed at the record label
EDM Digital
. Both tracks made it into the
Top Ten Download Chart
for several weeks. In the end of 2004, the new-born artist was invited to
Proton Radio
for digging the discs in its most popular radio show "Featured Artist". Consequently, labels, DJs and producers showed interest in Dario's pieces and started to chart his stuff.
These days, his tracks are supported by renowned DJs and producers such as: Perry O'Neil, Damien Heck, Hernan Cattaneo, Elusive, Espen, Yvel & Tristan, Shiloh or Clubbervision - to name only a few. In 2005, Dario signed a whole bunch of tracks at labels like
Sentient Audio Collective
,
Babylon Records
and
CPR Recordings
. The fact that Dario's tunes can be more or less clearly categorized as melodic progressive house and progressive trance does not mean that they all sound equal or not diversified enough. The opposite is the case: subtle, fresh and varying crystal clear carpets of sound as well as dynamic vibes are rendering his studio productions as well as his mixes (featuring progressive house, electro-progressive and progressive trance) unique.
The year 2006 represents another highlight in the rapid career of
Darioef
and also holds one of the main reasons for this brand-new special. We are alluding to
South Connection
, Dario's own radio show on
ETN.fm
, in our opinion currently challenging the globe's premium edm-related web streams. His sets come along equipped with flashing trancey stuff, mixed up with both driving passages and ear-teasing vocals and chilly carpets.
DJ Tab [anjunabeats]
Janne Mansnerus, aka DJ Tab, began his DJ-ing career in 1992 and has gradually evolved his style into what he now describes as "progressive and melodic trance". Tab holds residencies at two of Helsinki's biggest club nights: Illusions and Hallmark, where he is responsible for the club's music direction. He also hosts a monthly radio show called 'Radio Extreme'. Tab's success in the Finnish club scene has helped further his international exposure, and he has DJ'ed as far afield as Estonia, United Arab Emirates, Israel, Holland and the UK. His DJ-ing philosophy is to be one with the crowd, and he actively engages the clubbers and carefully scans crowd reaction to deliver the most memorable experience possible. Since 1999, Tab has applied his understanding of dancefloor mechanics to music production, and has already collaborated successfully with Miika Kuisma as 'AR52' on John OO Fleming's Joof imprint. AR52's first single "TimeGate / Hibernation" received massive support from the top DJ's and was featured on most major trance compilations (including Gatecrasher and Godskitchen). The follow-up "Enigma / Air Traffic" was equally successful. The Verso E.P. on Anjunabeats represents his first solo release, with the peak-timer, 'Verso', neatly complimented by the brooding set-builder, 'Radiate'. Both tracks have enjoyed massive support from the trance elite, including Matt Hardwick, Above & Beyond and Armin van Buuren.
Electric Pulse [E-TCR - Electronic Trance Communication Release]
A guy called Ron who was born in Israel and raised in Canada. Got into trance music in 2000 and started producing a couple years later. He is currently studying Computer Business at college and plans to expand his knowledge on both business and trance music simultaneously.
Electric Pulse
is also known under the alias
Summer Sessions
and
Sunquest
and is signed under the trend label E-TCR, a child of ATCR - just follow the link above.
Emphased Reality
After years of piano lessons Thomas Snik aka Emphased Reality began producing in the year 2001, he always liked music alot and wanted to do more with the music. He started to work with the all-in-one soft-sequencer
Fruityloops
first, then continued with the program
Reason
which he still uses today.
First he liked hardstyle a lot, but one day he dicided to switch from hardstyle to trance. At first it was rather hard trance but he discovered the slower styles step-by-step. Nowadays he likes to produce progressive, progressive breaks and progressive trance. And as you can hear immediately, he has mastered in these styles. His sound is awesome and just carries people away to
other worlds
;).
Thomas is also a DJ, he started dj'ing at the same time as producing. He likes to play progressive (trance, breaks) but he also plays a bit more experimental stuff. You can listen to Thomas twice a month in his radio show
Other Worlds
on the ETN.fm progressive channel (see our
radio show section
.
Thomas Snik is also the guy behind the hq-trance project
Mindphased
.
At the moment (March / April 2006) Emphased Reality experiences a big run. The sound is incredibly driving and manages to enchant many trance lovers around the globe! You definitely got to taste this definition of genuine contemporary trance music!
[
official website
]
Endforest [(not signed yet)]
Endforest is a collaboration between the talented progressive trance producer Trevor Kay and a guy called Peter (xxx). Further info coming soon.
Giuseppe Ottaviani [vandit records | monster tunes]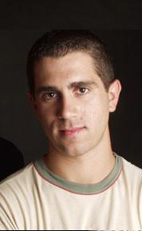 At first glance only few people and especially the trance newbies among them seem to know something about
Giuseppe Ottaviani
. But taking a closer look will soon reveal that he represents one part of the successful Italian producer team
Nu NRG
which currently has four(!) tunes in our alpha list (congratulations for this achievement at this point!).
In the last five years
Nu NRG
signed responsible for numerous above-average trance releases such as "Dreamland", "Connective", "Butterfly", "Freefall", "Casino" or the breathtaking instrumental piece "Eclisse". During the past year Giuseppe has prooven once more, that he has the potential also to produce great tracks on his own. Moreover, he has demonstrated that good trance not necessarily derives from the Benelux states, England or Germany exclusively. After he has worked together with Andrea Ribeca under the project name "NU NRG" Giuseppe decided to persue his own way in 2005.
The Italian guy discovered his passion for music in the innocent age of four years. One year later, he began to play the piano and got to know classic music first. At the age of 15 he discovered his vocation for dance music and started to rotate vinyls in clubs. In 1998 he has delivered his first two-hours set over a local radio broadcaster. At this time he had already cultivated a deep love for related technology and not much later he arduously built up a studio, where he familiarized hisself with a famous producing software. Shortly after he met Andrea Ribeca and "Nu NRG" was born.
In 2001, the quality of this project called the attention of nobody else than Paul van Dyk, who always had been all ears regarding new talents. It was still in the same year that the grandmaster signed "Dreamland" on his label "Vandit". In the following years
Nu NRG
released the "Spaceflower" EP as well as their first studio album "Freefall" (2004).
With "Nu NRG" Giuseppe also has experienced a great deal of live touring being hosts at several big scene festivals like Love Parade (Berlin), demWMC Ultra Music Festival (Miami), Street Parade (Zürich), Mayday (Dortmund), Gatecrasher clubs and festivals (UK), Nature One (Kastellaun, GER), Creamfields festivals and Dance Valley (Amsterdam).
When Giuseppe finished his first track as a solo artist in 2005 he had a rush of success with his track "Linking People" (also part of the alpha list), that was played and supported by top DJs around the world and featured on countless compilations. From then on he got very busy and released - among others tunes - "Until Monday" together with
Marc van Linden
occuring also on "Technoclub (Vol. 20)". Furthermore, he has produced various remixes, inter alia one for John O'Callaghan from Ireland for his track "Exactly". At the moment (2006/07) the wizard of fast, energetic and melodic trance enchants the world with his kicking sound while touring around.
Ralphie B [black hole recordings]
Ralph Barendse aka Ralphie B & Midway is the most succesful producer on Black Hole's hottest trance label
In Trance We Trust (ITWT)
. Under the
Ralphie B
guise he has a massive hit called
Massive
which is signed to various big labels worldwide such as
Ministry of Sound
and Paul van Dyk's label
Vandit
. Ralph recently signed to
JVC
in Japan.
In 2002 he had a very succesfull trance hit under the
Midway
guise called
Monkey Forest
, hammered by key DJ's worldwide. In spring that year he came with another tune called
Inca
.
The next Midway release was called Amazon - with remixes of his good buddy
Mesh
and
Vincent & Quentin
aka
Plastic Angel
.
Mike Brin
Mike Brin was born in Omsk (western part of Siberia), Russia on July 2nd 1986. He listened to huge amount of various music from his early childhood. His favourite styles are progressive house, house and down-tempo. Significant in his definition of music are perennial down-tempo beats (between 130 and 136 bpm; hh approximation) accompanied by unconventional harmony follow-ups and deep house baselines resulting in somehow unique acoustical journeys.
Although Mike is only 19 years old his hitherto contributions to the progressive house scene are extraordinary. Mike is known for a very fast rising production wise. His tracks are signed rapidly - also a proof of quality - and used in high class sets of various world-renowned dj's. In the beginning of 2005 he had his first great success with his remix of the track "Colours" by 16B. Since January 2006 Mike presents his show called "Paradigma" every third friday of the month on
etn.fm
.
And here is what Mike writes about his previous course of life at
myspace.com
(slightly modified): "My first wish to involve myself with the electronic dance music scene came when I was about 13 years old. Entering a club, I realised that I liked what I saw immediately; the whole atmosphere, the people, the DJs, the music... So, I began thinking that DJing could be an interesting thing to do. Luckily, before I buy my own equipment, friends of mine gave me the opportunity to practice in a club. As buying plenty and different kinds of music, all my days were dedicated only on listening to music. I was listening to almost everything, from Drum & Bass to Trance. As a result, I ended up DJing in local clubs playing at private parties and small pubs. A little bit later, I stumbled across a very interesting CD; it was
John Digweed
's 'GU Los Angeles Mix Compilation'.
At the age of 14, progressive house was already rolling inside my veins. Soon, I began learning how to produce and remix. It was quite hard in the beginning. I did plenty of tracks just for fun, some of them were bootlegs. Being a big fan of
16B
, I decided to remix one of my favorite tunes from his album 'How To Live 100 Years'. The song is called 'Colours'. This time I had a plan; to make something really good. I had a strong wish to make a remix I could be proud of. I was working on it for quite a long time and finally found the address to send it to
Omid Nourizadeh
and also to
Desyn Masiello
. The first support I received was from Desyn. He was the first guy who told me that if I will continue working hard on production, I could get some great results. That encouraged me and I started following his advice. Omid did answer after a long time and I was amazed that he loved the remix! Some time later I decided to send my remix to
Hernan Cattaneo
. I thought he could appreciate it and I was right. It was a surprise for me when he replied soon with a good feedback and after that, he began to support almost every track I was sending him. I was shocked by getting his email, telling me that he wanted to use my remix of
16B
's 'Colours' in his new 'Renaissance' compilation. Since (this) compilation was released I began working on productions with a lot more effects. Gradually I began signing my original tracks but I also wanted to start something new, a collaboration. Always dreaming to make a vocal track, I started working on a new project called 'Mike Brin featuring Helen K'. I was very fortunate to meet this talented vocalist from Greece. We've already signed our first track called 'Astounding Vision' to
Babylon Records
." This tune has been played by Hernan in an instrumental version first. It was released later-on together with a
Flash Brothers
remix.
Continuing Brins' original productions and remixes, the beginning of the year 2006 found him with over 15 songs signed and even more scheduled for release, while he also had proposals for remixing too. At the moment, he spends most of the time working hard in the studio, showing no signs of slowing down.