the world according to trance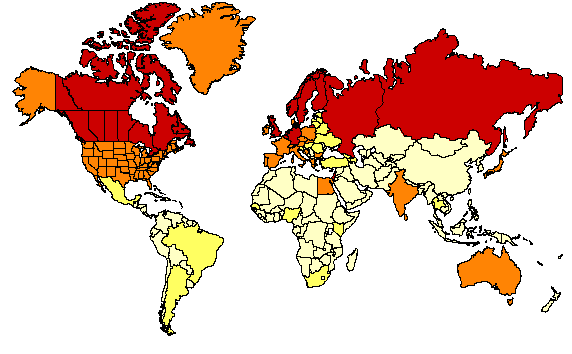 ... and why it is as it is - or - a word on constructing
Now that heavenly hymns frequently observes and classifies the global trance scene's high-quality output in two lists since 2001, and since it build up an alias list containing pseudonyms of the actors such as djs and producers within the global trance scene in 2004/05 (currently working on), the time has come to coarsly illuminate where those artists derive from and at which places they mainly act and perform.
This is right where our new
map of trance
sets in. The following image provides an overview about the main trance nations of today [status: 2005] whereupon the different extent of involvement is indicated by the three colours red (= high involvement), orange (= medium involvement) and yellow (= lower involvement).
Other countries putting in a rather marginal or no involvement at all are left white. Please note that this shall not mean that people in these countries would not contribute their style or definition of trance to the global scene. The reasons why we don't hear very much out of these countries are many-sided.
One could be that trance as a musical institution has not properly diffused from the "leading" countries to these nations: this contemplation is following the
innovation and diffusion theory
known from the observation, analysis and interpretation of economical processes in which each new epistemological, scientific or technical institution or manifestation needs some time to diffuse, to spread out from countries usually being more agglomerated and networked than other parts of the world thus enabling a faster exchange of news within various fields and sectors.
A second possibility constitutes itself by the inversion of the perspective mentioned above: the "leading" nations of trance do not have an ear for the (maybe also very fine) output of less-developed countries. This is either due to a controlled music industrial and marketing strategies and operations in the modern westerly music business or due to limited promotional and distributional ranges rendering equal and fair selling within the american and european markets impossible for smaller, independent labels deriving from countries formerly "exotic" within the world of trance as it is known to us. Another problem is the infrastructural and general economic deficit in these countries compared to the industrially developed states of the western hemissphere. Labels and music companies often moan about insufficient financial capacities to succeed in doing the leap into those markets.
The third reason is that many talented people living in less developed countries of the world, although they partially have access to what is currently going up in the western world of trance, they just do not have the financial means or the access to technical equipment necessary to start off into trance business.
Of course, there are many causes for that the map above looks as is. We just hope to have you contemplating about the situation and that the music we enjoy is due to its nature very much connected with absolute high-tech and luxurious equipment and a merciless music economy. Please always take into consideration that there are two sides of the medal and that there are many folks out there on the planet who would give excellent producers or dj's if they just would be given the opportunity to apply and realize their ideas and their definition of trance music...
radio stations
Beneath you can find a list showing both sophisticated and internet radio stations as well as links to well-established radio shows broadcasting cutting edge electronic (dance) music such as trance, house and break-styles in all their varieties - regionally, nationally, hemispherically or even worldwide (web). This list is to be extended step-by-step. again: please check back regularly. you can also report your favourite stations (recommendations)
here
, if they are missing and you think they deserve to be listed. thanks for your support.
ASOT
- A State Of Trance - highly reputated weekly trance show with Armin van Buuren and guests -
http://www.arminvanbuuren.com | armadamusic.nl
GDJB
- Global DJ Broadcast - with Markus Schulz on armadamusic.nl -
armadamusic.nl
ETN.fm
- dance community network - trance & progressive streams 192", 128", 32", articles, downloads, chat etc. -
http://www.etn.fm
DI.fm
- Digitally Imported & sky.fm (sister network) - streams: trance, vocal trance, chillout, house, hard dance, euro dance, progressive, goa-psy trance, hardcore, dj mixes, lounge BETA, ambient, drum 'n' bass, classic electronica, breaks, gabber, replay and many others by sky.fm -
http://www.di.fm
TATW
- Trance Around The World - with Above & Beyond on MOS - Ministry Of Sound -
http://www.ministryofsound.com
globalbeats.fm
- Tranceparency -
http://www.globalbeats.fm
ETR
- Essential Trance Radio - channels: trance, re-play, progressive, DJ mixes, chillout - all 32&" -
http://v3.essentialtrance.co.uk
where the heck is ilmola?!?!
As you know, young swedish quality trance producer Joni Ljungqvist has released a track called "Ilmola" recently. Guess what: we, too, have posed ourselves the question: why Ilmola?! what the heck is Ilmola?! Well, actually we considered it that strange that we presumed a writing error first. We thought Joni did an ode for Imola, the well-known north-italian industrial city and automobile / motorsport mekka. But why should he do this? Why should he act that strange suddenly? Despite of his astonishing low age, the global trance community has not gotten used to that kind of jokes coming from him yet. ;) He is usually referred to as a proper, honest, smart guy producing nothing else than excellent trance. So back to the question: what is Ilmola then, if it is obviously the right title of the track?
Heavenly hymns has taken a view in an electronic map system and found out that Ilmola is a tiny finnish village with round about 11.700 inhabitants. It is located in the east of Finland in the province of Lappi, not far away from the northern coastline of the bottnic bay.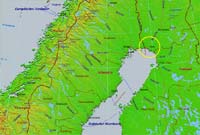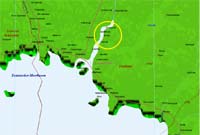 [ please click to enlarge ]
So, the next question is not far away: why calling a track after a pretty small finnish village that is more or less in the middle of nowhere, a fortiori, because of Joni originally deriving from the south of Sweden. Also Terje Bakke, the one Joni started to collaborate with when he became 16 years old, originally comes from Norway. To make it short: there must be something special about Ilmola, heavenly-hymns could not find out. At least we dare to doubt that there will be a great trance club rocking the place and the pampas around. *gg* Maybe it is because of the wonderful sunrisings / sunsets or north lights you can enjoy there. Or it is just the place where Joni spent his last holidays or where some relatives or friends of him are residing. Eventually, it is the place he retreats to when he is wants to create new sonic stuff. If so, than Ilmola got to be a moody spot providing vast amounts of tranquility. There just got to be a reason for the creativity Joni is acquiring from the depths of his mind and soul. But that belongs into the world of speculation... ;)
Celebrating under the moonlight...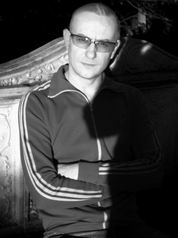 Hossa!! Seems the summer has just begun with this hot party tune of DJ Fonzerelli. Heavenly hymns takes you to the official video. And this one is even hotter (or should I be honest enough to say the cute girls they hired for this session?)... enjoy!
official video
And if you just can't get enough of that ill-driving sound: watch another cut from Fonzerelli's mix at the one and only "Sensation White" (for those who shouldn't know: don't wonder about the event's dress-code ;))
Fonzerelli @ Sensation White
By the way: who the fxxx is Fonzerelli?? A pseudonym of the Irish producer Aaron McClelland known for some naughty house releases. Always the same with those crazy Irish guys... ;) Here you can have a look at his discography so far:
discography
[ end of page ]