january 2002
01|17|02 - Mark 'Oh rockin' the hall
On March 16th it will be time to rock again when get-ready-to-dance dj Mark 'Oh opens up the 3rd round of the annual Lenz Party Series by heating the Halle Münsterland... Besides his current hits "Never Stop That Feeling 2001" and the recently released "Tears Don't Lie 2002" Mark is also expected to use the opportunity to test some of the tracks from his forthcoming album. So, if you like Mark's sound, make sure to mark March 16th on your calendar now and go dance to his beats live in Münster...
01|04|02 - many recommendations added
right at the start of 2002 lots of track recommendations have been added to the site. You can find them below the heavenly hymns list - as usual. All those tracks are really bombastic and many of them would be directly adapted to the list if there wasn't the current limit of 100 tracks listed in the hh-chart. There are also some tracks I have not listened to yet, but from which I know or feel that they just HAVE to be great. So: activate your filesharers, go search and download them... you will not regret it - I promise you! ;)
01|03|02 - trance project gouryella split up?
According to some news in the forums of trance.nu the well-known producing duo Gouryella suffered a split when DJ Tiesto left the act.
As heavenly hymns got to know from the unofficial Ferry Corsten homepage a few weeks ago, (> www.ferry-corsten.com), trance.nu mailed Black Hole, a famous lable for techno-trance, to get the rumours confirmed. Here's the rest of the sad newsletter (many thanks to Twan van Loon / Dance Mania, the original author of this tragical news):

"At first hopes were still there that this was just another nasty rumor. But hopes turned into tears when Black Hole's Arny Bink dropped this line: 'I can confirm that Gouryella have split up, and although there will be new Gouryella tracks, Tiesto will no longer produce them. This is for artistical reasons only, Ferry and Tiesto are still good friends.' After the article about DJ Tiestos album In my memory in Mixmag's November 2001 issue where Tiesto stepped on Ferry Corsten's feet by saying 'It's great to show the world I'm not just another Ferry Corsten' many took the rumours about a possible Gouryella split as the result. But according to Purple Eye's Brian Dessaur it's not at all the background to the split of one of the scene's best acts. Due to the very busy scedule's of Ferry and Tijs, they aren't able to get together in the studio at the moment. But this does not mean that there will never be a new Gouryella single in the near future."

Heavenly Hymns are very sad to forward this little older but confirmed message about the split of Gouryella; an act that has brought us all both joy and tears with their three unforgettable anthems Gouryella, Walhalla and Tenshi which are all solid participants in the hh-list since its beginning.

the article above is an almost 1:1 forwarding of the original ferry-corsten.com newsletter message. many thanks go out to Twan van Loon / Dance Mania, the author of the news > visit his website at www.ferry-corsten.com and subscribe to the newsletter. furthermore, you will find almost everything about Ferry Corsten and his phenomenal work. Go support this fine project!
february 2002
02|25|02 - Sonorous strike back
Everybody knows Euphonic - a young dynamic techno label that stands for intelligent high quality trance. a place from which such reputated artists like the techno fathers Kyau vs. Albert from East Germany, Italo-Trancer Mirco de Govia and the Classic-Trance-oriented project sonorous are sending out their stunning stuff demonstrating a non-plus-ultra in powerful contemporary trance music.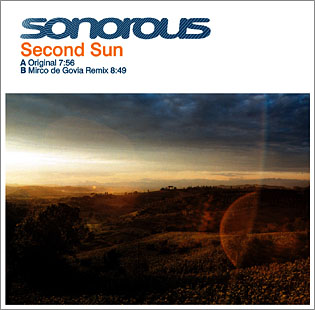 Fortunately, Euphonics trance masters do not work on their own exclusively. So Mirco de Govia recently worked together with his label partners Sonorous by contributing a remix to their forthcoming release.
After the chill-out trancer "Glass Garden" and some remix works like one for Kyau vs. Alberts' floorfiller "Outside" Sonorous themselves are now heading for their own first real big throw. The track has the fantastic and mysterious title "Second Sun" and is currently causing amazing enthusiasm among Europes Radio Stations and throughout the trance scene. Sonorous provide us with thrilling sounds and a beautiful relaxing melody that we guess won't get out of your minds even after weeks.
It is no question that the waiting time will cost (classic) trance lovers hard and brutal patience until this masterpiece finds its way to the record stores. But let us be honest: regarding such a heavenly hit this turns out to be bearable, doesn't it?! =)

more info about Sonorous and the euphonic label
02|03|02 - Acid Wars Review
Thomas P. Heckmann, Plank, Man At Arms, Acid Junkies with a live performance and many acid acts more have rocked the Fusion in its fundaments. Heckmann's current breaker "Himmel und Hölle" brought perfect atmosphere into the temple.

The housefloor performances were not as thrilling as they usually are, but mainfloor and subfloor feeling was amazing. The mainfloor came up with a stunning special video animation supported by winamp geiss visualization. Reputated national and regional dj growths like Man At Arms, Dennis Siemion, Minimal Sound Of North and DJ Punisher fed the crowd with supreme and hard underground sounds. The only worse thing was that the club was just too full. The wardrobe rapidly reached its capacity and so many guests had to take their pullovers, jackets etc. onto the dancefloors. But all in all (and once more) the Wars became a fantastic event!
march 2002
03|08|02 - Everything's in harmony!
It was just a few days ago that Apoptygma Berzerk's new single "Until The End Of The World" entered the Media Control Charts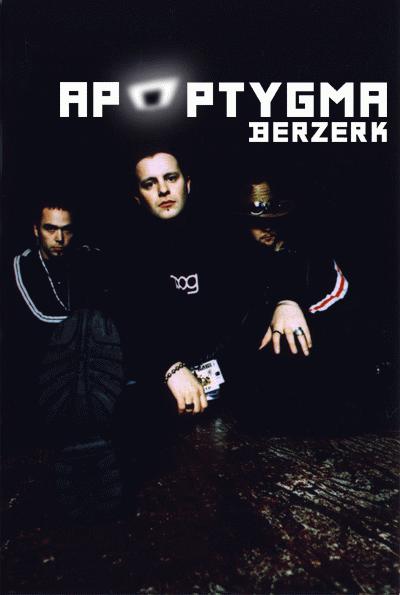 by directly climbing up to position 52 (from 0)! Even more success in the WOM Charts: here the song landed up on position 11! A huge surprise!! We are now looking forward to where their current album "Harmonizer" will smash in...
Meanwhile, ApB's "Harmonizer Tour" is obviously going to become their best ever. Everywhere fascinated people going wild about the happy sounds of the german-scandinavian futurepop trio. Of course, there are always guys who just do not want to understand the project's new development and musical tendencies. However, we at heavenly hymns guess that Apoptygma are on their right way and we are sending our best wishes for the tour and near future. your music rules!!

official homepage EUR | official homepage GER | fanpage GER
03|06|02 - A clear case of staring...


After a long time of waiting the first single taken from the forthcoming Album "Firstfloor" is about to see the light of day. "Bitter Little Pill" is already single of the month in the Ministry magazine, single of the week in Seven, highly praised in the DJ magazine and the NME, and Starecase are back again with us once more. Please also look out for their remix of the track "Relax" by the New Asians and their interpretation of Beber & Tamra's new single "You Wonder". a further diamond in your cd-rack, but pretty rare: the very limited 7" pressings of Starecase's "Bitter Little Pill".

more info about Starecase
03|01|02 - get ready for new hymns
As a consequence of the impossibility to restrict the number of tracks being in the hh-list at once to not more than 100, we decided to cancel the limit. This decision is based on the sometimes painful and very hard process of comparison and evaluation which tracks have to give way for stunning newentries or other already existing tracks. We think that it is going to be a better solution to let our powerful anthems co-exist side by side in "peace and harmony". But stay assured: this does NOT mean that we accept deficits in quality and the hh-typical fly-away characteristica that all of the masterpieces listed have in common. We will NOT let it happen that the quality our visitors are used to find on this page gives way for quantity and the terrible thought that from one moment to the other waves of new tracks would be flooding our well-proportioned collection each week. Entering the list stays the same honour for a track and its producer(s) as it already did before all the time. As usual, all tracks still have to meet the highest demands. Otherwise, if a track cannot stand even one of the regular evergreen & durability tests it will be banned from the hh-list. You see: we write QUALITY in big letters - not only for the past but also for the future. We had and have one vision and that is to provide you with the cream of trance and "melo-tronic" music - heavenly sounds for your best moments in life.
april 2002
04|18|02 - newentries en masse
techno april brings the quite astonishing number of 11 (!) newentries in the hh-list. Among the chosen hymns is also the new official

Members Of Mayday anthem Culture Flash could truely turn out to be a great evergreen. We think it is the best MOM-anthem since years because of its phenomenal melody line resembling some forgotten but the more brilliant piece from the era of the great classics. Once more it is just this fusion of retrospectivity and avantgardism which is enchanting both technolectro folks such as trance freaks. Nevertheless, also the other tracks are devine compositions. Check them out.
04|10|02 - hello world, some ApB news...
The boys from Apoptygma Berzerk have just returned to their homeland Norway and - after a short time of relaxation - are currently preparing themselves for their forthcoming gigs in Israel and the United States.

The Europe tour has been a great success. As some of you maybe already have heard the two debut albums Soli Deo Gloria and 7 are going to be re- released in totally new design since the early release versions are sold out and very hard to get. Regarding the new versions, it has to be said that they come up in complete rework meaning that also some samples had to be replaced because of some judicial conditions of the copyright owners. Fortunately, according to Stephan Groth, the frontman of the electro project, this will not lessen the quality of the songs. Furthermore, he has refreshed them as good as possible by making use of all technical means and methods imaginable. But not only the tracks will be different. Also the cover artworks have a new look. So let's get surprised... Due to the great success of ApB's current album Harmonizer it is, moreover, not surprising that the project plans to release a second single after the floorfiller Until The End Of The World. By now, it seems to be most conceivable that this is going to be either Spindizzy or Something I Should Know. Heavenly Hymns will keep you informed... ;)

official homepage EUR | official homepage GER | fanpage GER
04|08|02 - Faith is with us


After a lot of waiting the first single to be taken from the forthcoming LP Firstfloor has seen the light of day. Bitter Little Pill having been praised so highly in the press has now sold out. The second single Faith will be available at the end of April.

more info about Starecase
may 2002
05|01|02 - mayday! mayday!! mayday!!!
oh yeah!! indeed, in one of our recently posted news we wrote that since yesterday we KNOW that it is not only going to be the mere track, oh no... it is, indeed, the entire fucking booombastic beast of a party that deserves carrying the title evergreen because of its sheer unforgettable character as the best Mayday that has been celebrated since years.

Umek, Lexy, Westbam, Tall Paul, Timo Maas, Mauro Picotto, Carl Cox and Chris Liebing - to mention maybe the best but only a few - made up a fantastic framework for a festival traditionally culminating in the performance of the M.O.M. themselves when the folks stroke up with the official Mayday anthem 2002. The atmosphere was bearly describable when the huge party crowd started screaming in a choir MAYDAY! MAYDAY!! MAYDAY!!! So if anyone of you missed this great event: shame on you but get the hell there next year then. You won't regret it.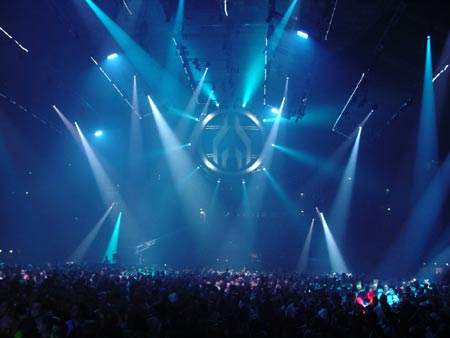 The visualizations and light effects were just unique: fast, colourful and came up with lots of variations. Temporarily the entire party crowd resembled a wobbling and crawling lava mass or blubbering sun granules. Thousands of techno geeks and electro freaks from all over europe and the world were melted together to one huge raving society celebrating the biggest and hottest and oldest and most tiring techno spectaculum of the planet.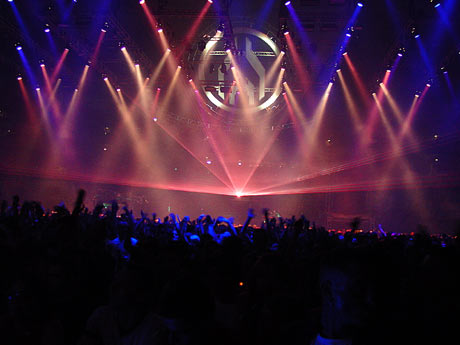 To draw a conclusion, planners, organizers and dj artists reached their aim which was to represantatively break barriers among different people, different styles and somehow FLASH the cultures. Once again (and maybe more impressive than ever before) Mayday showed that after 13 or 14 years of existence Techno still builds both an uncomparable and solid multicultural fundament such as a meaningful symbolism for peaceful and harmonic coexistence of an entire generation and the common formation of its future. Techno melts people together, Mayday flashes them!
august 2002
08|11|02 - and two more...

the list grows bigger and bigger although we still put a focus on quality even more than before - if this is really possible at all. But again even highest quality demands were forced to level the way for three more wonderful tracks.
Ferry Corsten's elder remix version of Chakra's "Love Shines Through" turns out as a fantastic both melancholic and euphoric classic trancer that has the power to bind and ban you in a state of highly intense emotions and makes you cry inside. You feel like you just have to enthusiastically sing along with that unforgettable sweet female voice, a voice that sounds so clear and deep, a voice that goes through each and every bone making you shiver of hope and courage.


Two hits at once go out to the unique Matt Darey whose numerous remix works, productions and super gigs have become well-known and highly appreciated all over the world. He's surely one of the most inquired and most influential global players, someone who knows his trade very well, one of the old pioneers in trance. So it is not surprising that Matt easily manages to enter the list not only with a heavenly mix of Lost Tribe's "Angel" but also with a sheer perfect interpretation of the track "Never Knew Love" which was originally produced by the Nightcrawlers. Last of the two pieces seems to explode in a huge unstoppable audio-supernova when listened to. Sheer energy builds up more and more and slightly but decisively turns into a mighty trance machinery driving and whipping you to pure ecstasy... We are sure: you will probably never forget this track, at least not so soon!
08|01|02 - back again
After about two months of abstinence without news and newsletters heavenly-hymns.de is back for good again - with more information, more scene news and more local party news than ever before.
The project feels obliged to make up for the long period of silence and plans to establish a couple of new features on the website! ;) In the nearby future the homepage will experience an extensive technical work-over such as a large revision and extension regarding content.
Furthermore, we think of integrating a guestbook or forum or even both and of providing more general interactive possibilities. We will keep you informed about the latest news and results - stay tuned!
september 2002
09|29|02 - about how to make a DJ - "Red Dragon on the move"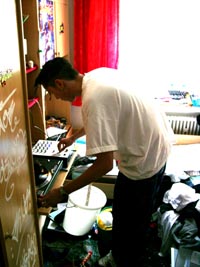 This time I (Olli) would like to tell you something about a boy called Stefan L., one of my best friends, who recently discovered his serious interest in discjockeying and sound-tweeking and is now spinning around like a freak.
It has been already more than five years ago that I began to play the DJ on some greater (not really >great<) more or less local private parties in the so called "Blue House" at Gallenkamp in the East of Techno-Münster. Besides many other friends and fellows Stefan himself was also happily wriggling around there. In the midst of all these unknown but somehow culty techno orgies it should not take a long time until Stefan began to show more and more interest and engagement in the "DJ business".

Looking over my shoulder, helping me out with the discs and controlling the tech stuff during my abstinence soon became daily - ehm - nightly routine... ;) So the first step was done and Stefan became more involved in the work of a partymaker though not really quite impetuous in those earlier times. It turned out to be just a question of time till he decided to take some steps on his own.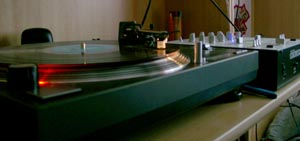 Two or three months ago the time had come: together with me he visited Germany's greatest DJ store and he started up with a little Jaytech 2Ch-Battlemixer and a Jaytech amplifier with some reloop monitor boxes. Everything was rounded up with a pair of wooden 3-way-boxes, a Behringer frequency control unit, some cd sources, one older turntable and a hell of a beast 300 watts amplifier kicking the fuse out of its place. With this equipment combined he did initial steps until he soon realized that he needed a better mixer which was clear from the very beginning but just not affordable however.
One month later he sold his "old" one and we bought him a state-of-the-art silvered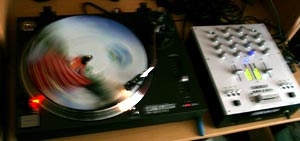 Reloop 2Ch-Battlemixer (see the photo to the right) - maybe the best you can get when you are about to be out of pocket. And things went better. But the most important tools were still missing. So it should not last for long that we bought a reloop RP-1000 MK II turntable that you can see in action on the same picture to the right.
09|11|02 - a date we will never forget
One year after the terrible fundamentalistically motivated attack on the free western world relatives of the victims just as security services and direct witnesses still feel unbelievable pain. The thought that thousands of innocent people, people like you and me, died in the horrible inferno, were buried beneath masses of beton and tons of steel, is unbearable. We will never forget the pictures showing women and men desperately jumping from heights of more than a 150 meters into death to early avoid the incredibly cruel fate that was about to await them: the breakdown of the two towers. Despite this tragedy many healing words have been spoken, but words cannot seize the true dimension of the pain and sorrow caused. Silence and speechlessness remain upon this bold and cowardly bloody deed, upon its sheer cruelty, upon this bare nightmare.
Words cannot be found. Feelings of hope, peace and love can. People carry these values and virtues with them, many can transmit them, can mediate them to an extent and intensity that is astonishing again and again. But there is one thing that can be even that strong and powerful. Something that is not made of flesh, of mortal substance. Something that goes far beyond the borders of human intercommunication and comprehension, that is not connected with the inaccuracy of language, limited individual abilities of expression nor natural possibilities of misunderstanding. This thing is called music and it can be a unified method of communication independent of each person's national, ethnic, cultural, political, religious or ideologic origin. Music is immortal and internationally uniform. It can be interpreted and understood without the need of learning a particular language or acquiring a special knowledge. It is general, something like a universal communication interface.

That means that music is the definite solution for your personal pain. But it can offer consolation and hope if you decide so and get involved with it. Music is very mighty and it can melt people together to be able to understand and assimilate not only the catastrophe they commonly experienced but also the evil and the terror in the world a bit more. It can even make them stronger and enable them to live with the tragedy, to live on.
Heavenly Hymns would like to express its deepest condolence and sympathy towards everyone indirectly or directly affected by the terrorist attack and those who have been torn into a mood of depression, desperation, pain and sorrow!
09|07|02 - still no newentries yet
As you might have already noticed the heavenly hymns list still has not got any newentries for september yet. This is primarily connected with the usual initial struggles related to the installation of our new host computer and its integration into a new intranetwork: during the last weeks it was - because of frequent hard- and software adjustments - not possible to connect to the internet. Therefore search, download and selection of techno-trance tracks could not be performed as usual. Editorial works and updates like news, reports etc. could not be uploaded either. Heavenly hymns would like to excuse for any kind of disappointment this might have caused.
Now, as systems and network are built up so far and working we will make up for that insufficiency and provide you with news articles and reports especially from Münster's local techno scene (but also some stuff reaching beyond the city borders, of course).
Furthermore, we hope to be able to present some new tracks in the list for next week (if they are considered adequate at all ;)). Here are already some possible list candidates which you might see again the one or the other from soon:
Cygnus X - Positron, Donald & Giles - The Creator, Liquid Audio - Chunkai, Shane - Too Late To Turn, Transa - Chronology. More tracks following soon here.
09|06|02 - Cosmic Club postpones last Mysticland
Every raver, every houzer, every techno geek in Münster knows and loves the legendary Cosmic Club. And so, of course, sadness and melancholy was great and wide-spread upon the ground-shaking news that the classic and just as well legendary CC-party-series called Mysticland goes into the last round.
Also more or less surprising somehow turned out the message from some weeks ago that the last strike is announced to take place much later than previously planned. The jubilee-goodbye-festival with that undescribable connotation between bittersweet melancholy and highly ecstatic last-time- in-history pleasure will now be celebrated on >>> Saturday, October 19th <<<.
So make sure to be prepared when such illuminating guests like... Westbam, Mr. X & Mr. Y (live), Lexy, Hardy Hard (all at Electric Kingdom Floor), Takkyu Ishino, K Cee, Steve Mason, Genlog (live) (all on CC Floor), Ellen Allien, Sascha Funke, Paul Kalkbrenner (all at BPitch Control Floor) and many other (local) Techno-House-Masters also from Depot Club and Fusion Club (House Floor, Clubs United Floor) ...elevate the measure line for contemporary and future techno and house sound onto the next level.
This night is going to be a party flight of its own you will definitely never forget! ;) Be there and experience the last hours of a legendary giant in Germany's (and maybe Europe's) original techno-club scene... ;´( hey, common, life goes on. Münster is a techno lover as you know. And we from heavenly-hymns.de will continue guiding you to the tech-parties of the future. Promised! ;)
09|02|02 - 300.000 techno-enthusiasts at Loveparade Tel Aviv
The last loveparade in 2002 ended up with a new visitor record: 300.000 ravers did the organizers count in Tel Aviv. Since 1998 does the parade take place in the Holy Land, this year for the fifth time in the row without any escalations or otherwise

problematic situations. 2.000 policemen - just exactly as many as in Berlin each year - have provided adequate security. Most of the guards and specialists are dressed civilly. Also the basic tendency differs from security measures and strategies carried out during other European mass events like the Loveparade: the policemen protect the participants and visitors, they do not harass them. Despite times of war and hate, the greatest Open Air in Israel (that attracted 50.000 people more than last year!) sets the signs its creator and pioneer Dr. Motte always wanted to set: peace.