february 2003
02|05|03 - heavenly hymns back on the stage
After several months of abstinence from the newsletter system the regular posting can now be re-established. Problems concerning time management and differing priorities made usual services and investigations as well as production and dispatch of the newsletter impossible.
As a compensation or reparation and also as a kind of personal moral obligation we are about to set new challenges for ourselves and our project. With the power of fresh motivation we would like to submit a proof that heavenly-hymns.de has NOT paused or even quit service.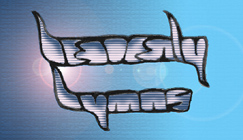 Regular updates in the sections "news", "cd-tip", "links" and - not to forget - the "hh-list" speak a clear and unequivocal language with regard to this case.

For those who didn't get to know yet: meanwhile even a little new section has been created to accompany the already known classical sections: following the new menu link hh-project you come across an info page that - especially dedicated to scene-newbies & first-time-visitors - provides a couple of answers to such questions like "what's really behind first-class traditional or classical as well as contemporary or futuristic (Nu-)Techno-Trance?" or "which often undiscovered and unexposed power or potence does well-made Techno carry within itself?" or "what is that kind of music really able to give, to induce, to create and evolve? (regarded apart from all that blind and furious criticism expressed by some 'evil tongues')".
Besides a sound background story depicting the way it went to the foundation of the project hh and, furthermore, describing which idea, which motif, which impetus is driving it forward on its mission, besides THIS story of the project's genesis we are also laboriously (but hopefully successfully) trying to answer the questions: what is Techno-Trance really keeping inside for us to explore, to discover, to expose? Isn't it more than just the stereotypical "unemotional interaction of cold electronics and primitive, merciless and ungentle beats?" ...or in other words that what's known as the famous "boom-boom" frequently quoted by prejudiced or just ignorant people?

Regarding demanding state-of-the-art Trance Music: what's exactly conceived behind such aspects like content, dynamics, rhythmics, the quality of production, innovation and creativity? Another interesting question is: what's with the possibilities of extraction and influence into the listener's individual psychological profile?
All these questions is paid special attention to in the new "hh project"-section. Some of the questions are already responded to. Further information, topics and questions will be added in regular intervals. And so another very important and interesting part of the page has now been opened up right for you.
As you see: "heavenly-hymns.de" lives, and we'd even like to go one step further! Therefore our "restart" is not exclusively performed by submitting a brandnew newsletter version. We also ask you to get prepared for upcoming hot scene news and music tips designed to be much closer to up-to-date happenings and events and, in addition to this, show up the newest Techno trends and developments of tomorrow.

welcome to a new future - heavenly hymns
may 2003
05|10|03 - hh-list experienced tremendous rebirth
It does not force you to take a close look at our lovely list to recognize that major changes and additions have taken place during the last months. The magical boundary of 200 ultimate first-class trance tunes has been overcrossed. The continuous and proud expansion of the list forced us to split up the site into two parts - one for the main list and another one dedicated to the recommendations. This step actually already planned some months ago improves the clarity tremendously and fastens the site's pop-up procedure enormously allowing more intuitive and direct surfing without the tiresome delay especially 56k and isdn users may have experienced.
But concerning improvals and extensions there is no end in sight: for the near future a further expansion is being planned. This extension will consist of a "horizontal information add-on" as we use to call it. That means that we are going to provide as much data as possible about the files in the list such as name of the label involved, the year of the track's release, the track's length and some kind of special information (if available / interesting). This will, however, take its time because time becomes very rare to the heavenly team (see article beneath).
As you see future plans are set and to be realized as soon as possible. But before starting to talk about the future let us show and explain what exactly has been done in and around the list until yet.
The very first thing you come upon is the new survey sheet giving you general data on the left side and special information on the right at the same time about what awaits you in the two known lists which are hh-alpha on the one hand and the recommendations list now correspondingly being called hh-beta list). The first four items on the left side are self- explaining so far. The fifth topic gives you info about how much logical or ortographic corrections OR additions (other remixes and versions of the single tune or additions to artist and/or title). The last item shows the current status of the list meaning how much has been changed in the meantime (to be more precisely 'since the beginning of the current month').
When you scroll down you will see some corresponding information for the hh-beta list which contains the "other recommendations" as mentioned above. The information here was reduced to only three items because it was regarded unnecessary due to the beta list's lower priority or importance.
The information texts on the right sides contain first-time information and are therefore considered for the newbies visiting the site and and the central list for the first time. This was established to guarantee a maximum of user friendliness and structural clarity.
june 2003
06|20|03 - rmb rave classics in new dress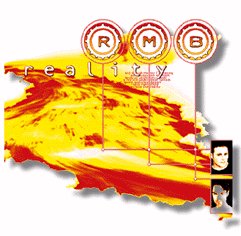 After the spectacular premiere presentation of Blank & Jones' remake of RMB's 1996 raver "Reality" at Mayday 2003 the track is played up and down throughout the clubs. Once again the composition represents a very good remix produced by Blank & Jones. After almost 10 years RMB seem to have softened copyrights and licenses of their two probably most successful and self-associative rave smashers to open up the way for a wave of contemporary reinterpretations. Besides "Re-Reality / Reality 2003" the new version of "Spring" (also from 1996) is supposed to be released on July 21st 2003 as the first single extraction of a brandnew album called "RMB & Friends". Legendary Talla 2XLC and others appear as guest artists. The special single will be released under the title "RMB & Friends - Spring".
Moreover, a new exclusive RMB & friends website will soon be lounged. The addresses www.rmbandfriends.com and www.rmbandfriends.de are already online and will soon provide you with all necessary information about the forthcoming album project.
And still not enough - another exciting message arrived us: at the end of 2003 a new RMB album will be released with new productions by Farid and Rolf. There will be less chillout tracks on it, but more pieces over 130 beats per minute! First ideas were presented by both artists during the Turntabledays 2003 in Halle, GER. Is this going to be a hommage to former rave times? We will see..
06|18|03 - blank & jones with new single
It looks that the new Blank & Jones will be "Flaming June" which is a track from their current album "Relax". It has been produced with guest appearance of Elles de Graaf (the voice of Perpeteous Dreamer). So far one of the remixers of this forthcoming single is the legendary well-known project Chicane. Some time ago Blank & Jones have remixed their track "Love On The Run". Now they get something in return. ;)
06|15|03 - armin van buuren releases first artist album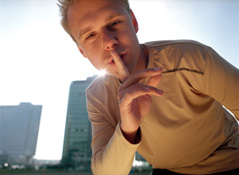 On June 16th world-famous dutch trance dj and producer Armin van Buuren will release his first solo artist album. Finally, after one year of hard work, the album is ready. It was a great honour for Armin to work with gifted artists like Victoria Horn, Ray Wilson, Justine Suissa, Ferry Corsten, Airwave and Jacqueline & Annelies from Krezip...


To celebrate the release of the album called "76", a special party at the ASTA in the Hague, Holland will be hosted on June 20th. After this release party the top dj will be touring a bit through his homecountry, Holland (Tilburg, Groningen, Amsterdam). "76" contains 76 minutes of audio for your listening pleasure. It will be in stores from tomorrow, June 16th.
To provide you with a maximum of information, heavenly hymns have discovered the following dutch press article which you can read in its original form - translation should be easy actually. However, it is also meant as a friendly gesture towards our friends and visitors from the Netherlands and, last but not least, to emphasize a bit the open-minded, liberal and multilinguistic, multinational character of this page...


"Armin van Buuren schrijft geschiedenis
Op 16 juni 2003 schrijft Armin van Buuren geschiedenis met de release van zijn album '76'. Het is het langverwachte debuut van de nummer 5 DJ van de wereld, die in 2002 in zijn drukke agenda ook nog eens de tijd heeft gevonden om af te studeren tot Meester in de Rechten. Mr. Armin van Buuren heeft met '76' een trance/pop-album van uitzonderlijke klasse afgeleverd, waarop natuurlijk de hitsingles 'Yet Another Day' (feat. Ray Wilson) en 'Sunburn' niet ontbreken en waarop hij samenwerkt met Ray Wilson (Genesis, Stiltskin), Ferry Corsten, Justine Suissa, Victoria Horn (Dirty Vegas) en Jaqueline Govaert (Krezip).
Op dit nu al legendarische debuutalbum staan naast de singles 'Yet Another Day' (feat. Ray Wilson) en 'Sunburn' ook zijn doorbraakhits 'Blue Fear' in een gloed nieuwe 2003 remix en 'Communication'.
Op het album zit een krasvlakje met daarachter een unieke code. Deze unieke code verschaft de koper toegang tot een speciale '76 Members Only'-site. Op deze site zijn prijsvragen, ringtones, videoclips, downloadables en nog veel meer Armin van Buuren-extra's te vinden.
Armin van Buuren is de huidige nummer 5 DJ van de wereld en voegt met zijn debuutalbum '76' een spannend nieuw hoofdstuk aan zijn toch al imposante carrière toe. Het is de definitieve sprong naar het grote publiek. Een sprong die van de kersverse Meester in de Rechten een internationale superster gaat maken."


06|12|03 - Kyau vs. Albert finished "Velvet Morning" video clip
Kyau vs. Albert - these artificial names almost have become a synonyme for intelligently produced hypermelodical euphoric state of the art trance music. Ralph & Moebius,
who stand behind the project have maybe established their biggest success by the release of the top trance tune "Velvet Morning" from the quiet tip high-class german trance-lable Euphonic. These days the works for the accompanying video clip have been terminated and the duo has decided to publish a small picture series about the cut on the kva-website. You can directly go there and watch the exclusive pics. Just click here and enjoy. By the way: watch out for the single release. This is definitely going to be a must have. Already the Mirco de Govia Remix alone would make it worth buying. ;)
october 2003
10|10|03 - new dutch trance compilation series lounched
A brandnew quality compilation series is being lounched these days: Best of Dutch Trance! heavenly hymns thinks that it' common knowledge that trance is one of the biggest Dutch export products around, so this hard fact is all the more reason for an exiting new compilation series. Best of Dutch Trance, Vol. 1 is mixed and compiled by upcoming talent Ron van Kroonenburg (known from projects Driftwood and Vank a.o.) and he proves that Best Of Dutch Trance is going to become a hot compilation series.
Go read more about it at unitedrecordings.com
10|10|03 - prepare for PvD's new album "Reflections"!
Trance pioneer Paul van Dyk's new album called "Reflections" will be released on October 27th via Urban (Universal) this year. Included will be - among classic trance smashers, electro beats and modern progressive soundscapes - the pre-released single track "Nothing But You" and,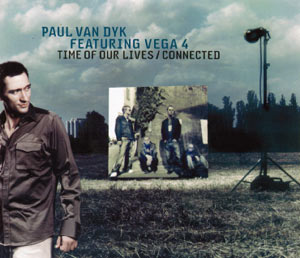 of course, "Connected" already known from the Motorola™ TV spot. The last one has been released on October 6th together with "Time Of Our Lives" which has already been played by Paul at the Loveparade 2003 in Berlin (cover on foto). heavenly hymns is expecting a fantastic state-of-the-art trance album whichthrough Paul will also use the opportunity to show his talents on creating fresh and innovative fusion music somewhere between trance, tech-house, electro and dance-pop. Definitely something for the masses while bewaring class-of-its-own quality and dimension. "Hey man, it's Paul! *ggg*"
10|09|03 - Christian Rusch's Epic finally "in"
The self describing fly-away trance monster "Epic", a cooperational piece of work by Christian Rusch and Greg Murray has finally made the step into the alpha list. The track reached us very lately but as we listened to it for the first time we immediately decided to put it in because it is very well sampled and programmed. Moreover, there are some little innovations in it which is going to be very attractive and thrilling. Uplifting sound elements are mixed up with a somehow deep basic atmosphere getting everybody on the floor. A solid and fascinating state of the art trancer that has definitely deserved it. However, Greg Murray seems to have a hefty kind of hype at the moment. We want to remind you of several huge productions during the last year and especially in the last months like the astonishing interpretation of Corderoy's "Sweetest Dreams" or the absolutely amazing remix of Solar Stone's wonderful energetic and chilly trancer "Solarcoaster" for example.
10|08|03 - Armin's soundscapes rushing the States
Armin van Buuren is currently on his U.S. 76 Tour! At this very moment Armin is touring America. His debut album has just been released by Ultra Records in the United States.
10|01|03 - and again and again and again...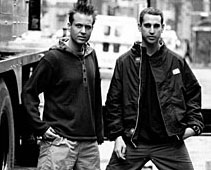 Blank & Jones currently seem to be all the way covering, which has certainly become a bit boring during this year particularly with regard to the eighties revival booming last year. But B&J are showing themselves unimpressed by these hard facts while going to prove their talent in doing solid fresh and dynamic remixes of some classic tunes and songs. After their rework of RMB's superhit "Reality" not long ago which unfortunately and incomprehensibly became not very popular the duo releases another well-produced masterpiece whose original goes back even farther than just back to the era of the raving society...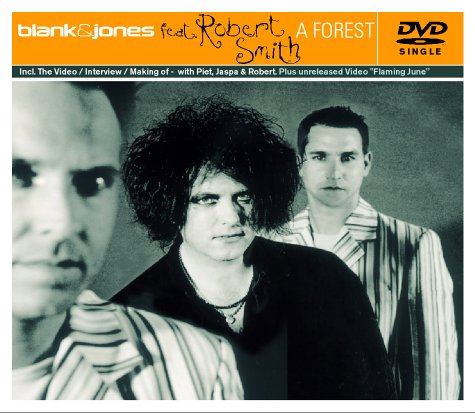 It was in the early days of september 1980 when nothing lesser than Robert Smith, a shy but somehow excentric goth developed a track that later on should become one of the best output of the band ever and which would have a strong impact on the progress of modern music for young folks on orientation and the development of new styles of music.. Robert Smith & The Cure - Blank & Jones: sharply contrasting styles and ideas of music elt together generating something new... courage for experiments, that's in today, that's gripping. And when successful it can be a small piece of musical enrichment.. such as this one.

Blank & Jones feat. Robert Smith - A Forest (Short Cut / Original Mix) (released via Gang Go (Warner Music) on September 15th 2003) - also as DVD (2nd foto)